The 5 Best Soil Moisture Sensors for Agriculture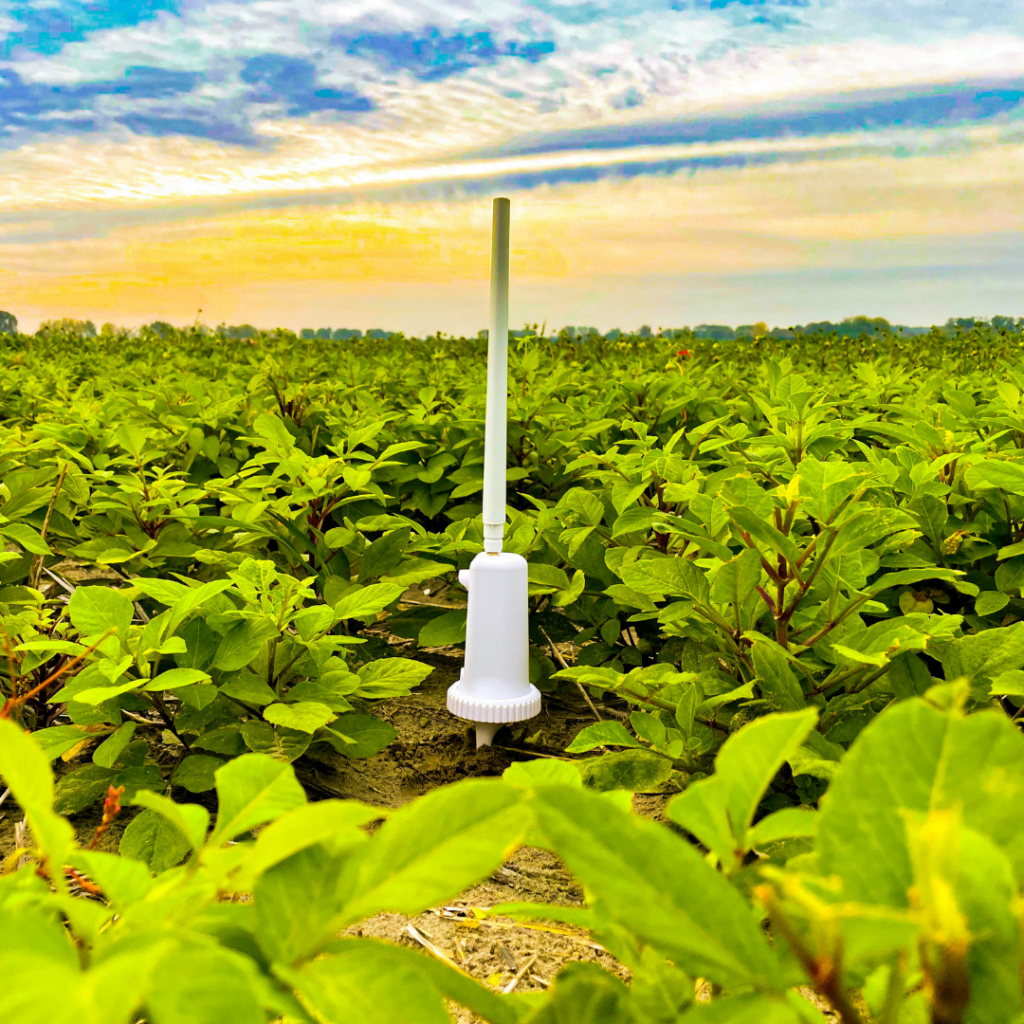 In this article, we will compare five industry-leading soil moisture sensors in-depth. We look at price points, special features, support, and other important factors to help you determine which sensor is the most suited for your operation. We also unpack who can benefit from using this technology.
In its essence, soil moisture sensors use an electrical current to detect the presence of water in the soil. These sensors then send the information to a computer that displays the results digitally. With technological advancements and the evolution of precision agriculture, current soil moisture sensors have developed in such a way to provide much more than just soil moisture measurements. They're often paired with a comprehensive digital data platform, so users have access to a range of valuable field, crop and weather data. Insights from this data can lead to better decision-making resulting in optimal use of resources, profitable yield and even yield increases.
What is the best soil moisture sensor to buy?
We've done in-depth research to narrow down the best soil moisture sensor producers used in precision agriculture. Let's look at an overview of each below:
Arable
Arable was founded in 2014 with their headquarters in the USA. They have global reach and operate in 30 countries. Their flagship sensor is the Mark2, users can access data on rainfall, crop water demand, water stress, microclimate, canopy biomass, and chlorophyll levels through their smart data platform.
CropX
CropX is based in the US and operates worldwide. Their first generation product went to market in 2017. They offer an integrated hardware and software system with a suite of decision and planning tools based on continuous monitoring of soil and crop conditions. Their sensors send the collected data to the Cloud and send back advice and insights.
Sensoterra
Sensoterra is a Dutch company founded in 2015. They focus mainly on water management solutions and their product range includes single and multi-depth soil moisture sensors. Users can access data through the Sensoterra app or a platform from one of their Integration Partners.
Sentek
Sentek was founded in Australia and has been around since 1991. They design, develop, manufacture, support and globally distribute products for measuring and managing soil moisture, salinity and temperature. They have 6 soil moisture probes included in their offering, including the Enviroscan that can measure from 0.5 up to 40m.
Farm21
Farm21 was founded in 2017, and based in the Netherlands. They entered the market with the FS11 soil moisture probe and released the FS21 in the beginning of 2022. They've expanded to over 15 countries and users can access data from their wireless soil sensors, weather, satellite and scouting information through their data platform.
To choose the best soil moisture sensors, we looked at client reviews, business websites, and other credible online sources. The below table compares the leading brands: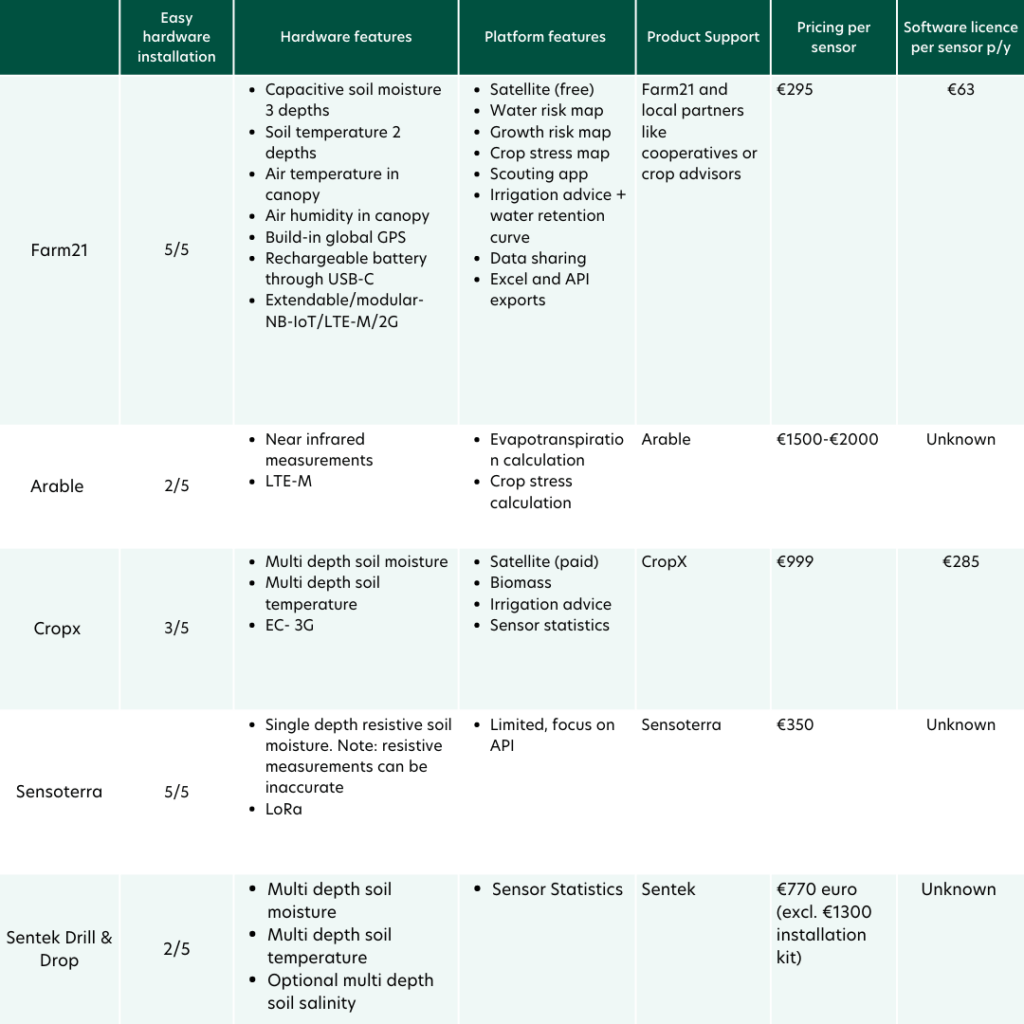 Why should you choose FS21 sensors?
By working closely with growers, crop advisors and researchers, Farm21 noticed a big need for a simplified solution. In particular, the need for a device that is affordable with a quick and seamless installation process. Also, the need for a data platform that is easy to understand and navigate. At Farm21, our team of hardware and software engineers, together with precision farming experts, created a zero-maintenance, affordable and easy-to-install device that makes mass deployments possible. We have also developed a structured onboarding an support plan to help our clients get the most out of our products. Every sensor has been designed, built, calibrated and assembled in The Netherlands.
FS21 Features
Global connectivity with NB-IoT, LTE-M and 2G (sim included)
Battery easily charged with USB-C
The robust design allows users to treat, spray & irrigate crops with sensors in place
The easy-to-use platform that pulls data from the sensors, weather, scouting and satellites onto one central hub
FS21 Soil Moisture Probe
Developed over the last 4 years, the FS21 is one of the most advanced smart farming tools. A zero-maintenance, affordable and easy-to-install device makes massive deployments possible.
Designed, built, calibrated and assembled in The Netherlands.
FS21 Advantages
Affordability: Five to ten times more affordable than any competing device
Ease of use: Installation takes 30 seconds and a single battery charge lasts a full year
Accuracy: Measures air temperature, air humidity, soil moisture (-10, -20 and -30cm) and soil temperature (-10, -20cm)
| | | |
| --- | --- | --- |
| Key Advantages | Farm21 | Competitors |
| | | |
| Data collected from our proprietary low-cost sensors, scouting, satellite, weather, fields | ✅ | Single datasource |
| Configure your own alerts | ✅ | ❎ |
| Web and mobile app | ✅ | Need to install another app |
| Unlimited users for free | ✅ | Not possible to share data or pay extra |
| Free scouting app and satellite imagery | ✅ | ❎ |
| Easy to use interface | ✅ | ❎ |
| Phone, mail and chat support included | ✅ | Pay extra |
| API to integrate with your own platform | ✅ | Hardware focused |
Who can benefit from soil moisture sensors?
Soil moisture sensors hold many benefits for a multitude of stakeholders. Growers, researchers, crop advisors, distributors and co-ops can use this smart farming tool to benefit their operations in different ways:
With a constant stream of real-time field insights, crop advisors remain up to speed on clients' field intelligence, whether they're in the office or on the road. Quick access to accurate information allows users to make data-driven decisions.
When it comes to running trials across various trial sites, agriculture researchers can now remotely monitor trial sites and receive a constant stream of consistent and accurate data. Having data from soil sensors can save time, money and resources.
Whether already a distributor of precision ag tech tools or wanting to expand their offering to stay with the times, distributors and co-ops can benefit from adding high-quality soil sensors to their portfolio. Benefits include return on investment and long-lasting client relationships.
What is the best way to get started?
After deciding which soil moisture sensor is suitable for your operation, buying and installing the devices is only the first step. Next, you need to make sense of the data collected and learn how it can be used to make better decisions. To help you navigate this, we've created a must-have resource: Precision Agriculture's Ultimate Cycle: The 4-Stage Handbook. Click here to download it for free.
Want to find out more about Farm21's affordable soil moisture sensors?
Schedule a call with one of our team members to discover what Farm21 can do for you.